Nigerian Christians Ask Trump for Help Against Jihadi Slaughters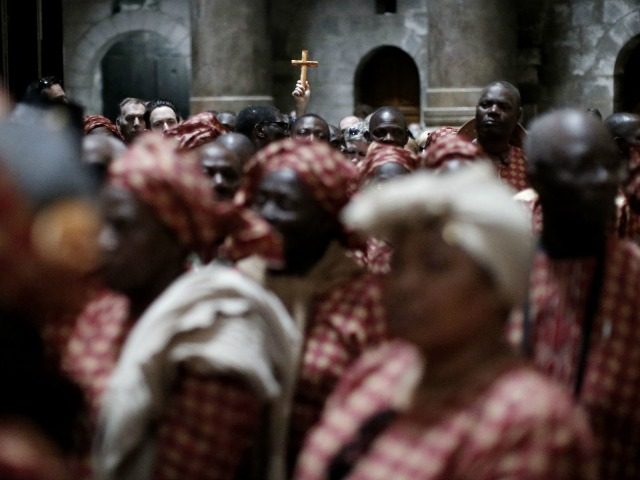 Christians in predominantly Muslim northern Nigeria sent an open letter to President Donald Trump on Thursday urging the United States to help persecuted Christians defend themselves from jihadist attacks in the country, typically at the hand of the Fulani herdsman that populate north-central Nigeria.
Unlike Boko Haram, which has long claimed its goal the imposition of a Sunni sharia state in Nigeria and eradication of Western education, Fulani herdsman first began to engage in conflict with Christians because the latter were predominantly farmers and the herdsman wanted to use their land for their cattle. In recent years, however, the Fulani herdsman have gone on a campaign to eliminate Christians entirely, one that those affected have referred to as genocide. Fulani herdsman commonly target schools, churches, and private homes with no clear relation to farming, disproving the claims that their attacks are based merely on territorial disputes.
VNCMN specifically complained that, under Buhari and Kaduna state Governor Nasiru Ahmed El-Rufai, Islamic radicals have been emboldened to persecute Christians. Rev. Kallamu Musa Ali Dikwa, the executive director of the group, accused Rufai of supporting Fulani herdsman attacks and endorsing the creation of an Islamic state within the country.
"When he saw that the Fulani terrorists could not complete the work of cleansing the ethno-religious Southern Kaduna [of Christians], Governor El-Rufai took over from them, using the power of government on the people to take over Southern Kaduna communities for Islam and Fulani ethnic groups, abusing the power of his office," the letter asserts.
VNCMN also accuses Rufai of giving violent Fulani Muslim groups "millions of Naira" to stop the attacks when the publicity became too negative for him.
"From the foregoing, it is clear that the focus of Governor El-Rufai and the Federal Government is pointing to the Islamic agenda, with a view to taking over all Christian settlements, villages, towns, districts, local governments and the entire state to the detriment of the Christians," the letter concludes.
"The Nigerian federal government failed to implement effective strategies to prevent or stop such violence or to hold perpetrators accountable. Boko Haram and the Islamic State of Iraq and Syria-West Africa (ISIS-WA) continued to perpetrate attacks against civilians and the military throughout the year, despite the government's claims of progress in defeating them," the report read. "In addition, members of the military and the civilian joint task force, a local vigilante group supporting official forces, were accused of human rights violations against civilians displaced by conflict."